The number of Syrians in neighbouring Turkey has surpassed 1 million, the Turkish deputy prime minister has said.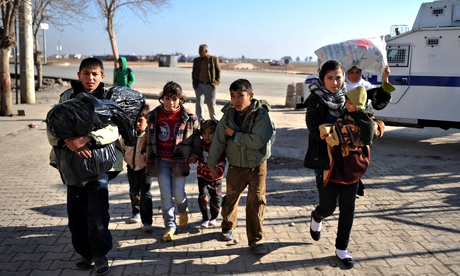 There are more than 20 refugee camps in Turkey near the roughly 500-mile border with Syria housing more than 220,000 people. But the bulk of people who have crossed the border are living in Turkish cities, mostly in the provinces of Hatay, Gaziantep and Sanliurfa. They have taken advantage of the "open border" policy maintained by Turkey, a staunch opponent of the regime in Damascus, towards Syrian refugees.
The Turkish deputy prime minister, Besir Atalay, told a news conference on Thursday that the number of Syrians in Turkey had reached 1.05 million since the uprising against Bashar al-Assad began more than three years ago. It began with largely peaceful protests but has become increasingly bloody, with a number of jihadist groups joining the fight to depose Assad and no end to the civil war in sight. Activists put the number of people killed at more than 160,000.